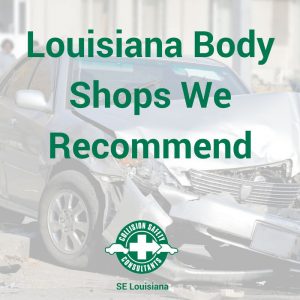 There are plenty of Louisiana body shops to choose from.  Your insurance company will typically provide you a list of their recommended locations.  However, it is your right to choose.  You need a body shop that is ready to work for you and not necessarily for the insurance company.  Below you will see a list of reasons and recommendations for Mississippi and  Louisiana body shops that we work with.
Why Louisiana body shops come to us
To help with…
Five reasons to choose these Louisiana body shops
1. Certified. These shops have successfully achieved certification from OEM programs that ensure your vehicle will be repaired correctly. These programs are thorough and complex. Most require specialized tools and training to be granted certification. As the customer, you can bet these shops do not cut corners.
2. Trained Staff. These facilities will have courteous, knowledgeable staff willing and able to answer questions throughout the process. Their technicians will be competent and trained by nationally recognized automotive collision repair courses – a national standard for technician competence.
3. Dependable. These shops have consistent dependable work and warranty their repairs. They work with the insurance adjusters to ensure your repair is properly and safely performed. Their reviews are evidence of their dependability.
4. Customers come first. Any good body shop shows that their customer's happiness and safety is foremost as they are concerned. They show this by keeping communications open and the repair process transparent. They understand that the process is a stressful one and show concern by thoroughly explaining estimates and processes. All policies, guarantees and methods of payment are explained to your satisfaction.
5. Quality Parts. Whenever possible, a quality OEM (Original Equipment Manufacturer) part will be used on your vehicle's repair. It is common for insurance companies to not approve the use of OEM parts. They save lots of money at your expense by using aftermarket or recycled parts. Your body shop knows what will bring your vehicle back to safe use and will advise you accordingly. These Louisiana body shops work for you – not the insurance company.
Questions To Consider
Important Note: You have the right to choose your own body shop – Whether the accident was your fault or not. You DON'T have to use the shop referred by the insurance company. Once you choose your shop, and before they work on your vehicle, look around and ask questions
Do they have certifications from several manufacturers? A quality shop will have certifications displayed.
Are they contracted with several insurance companies under their Direct Repair Program? BIG RED FLAG! Who will they protect?
Who will they refer you to for Diminished Value? They should have material/info for you.
In no particular order, below is a list of Mississippi and Louisiana body shops we work with.
---