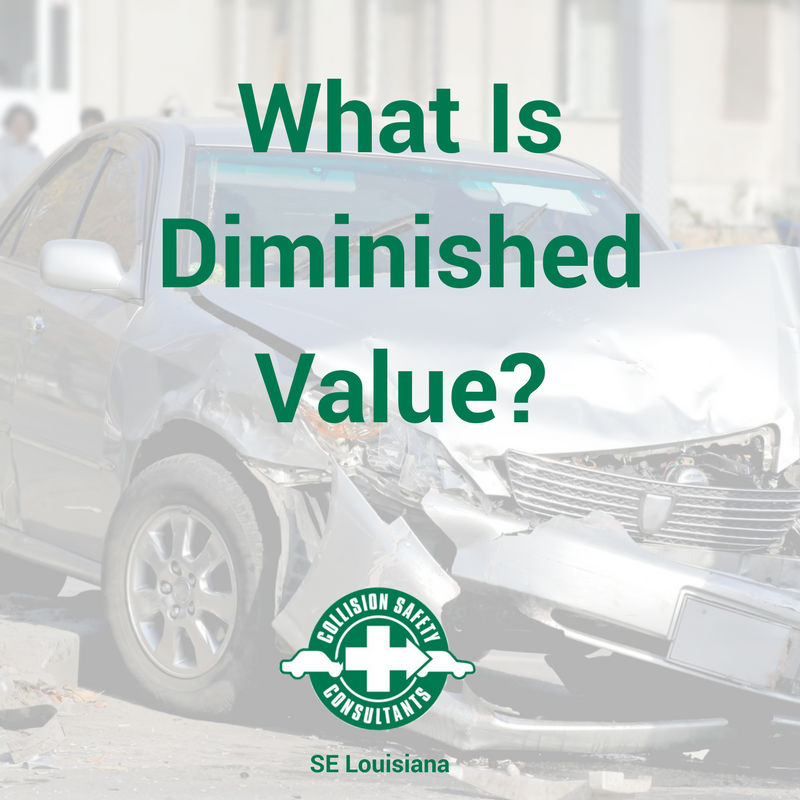 Diminished value in Louisiana, is a common phrase when dealing with car insurance claims. Did you know that the vehicle owner experiencing a loss may be entitled to approximately 25 percent of the damage that the insured caused to their car? For example: if they were in an accident and the repairs to the vehicle totaled $4000.00. In addition to having those repairs covered, they could be entitled to approximately $1000.00-$4000.00 in Diminished Value on their vehicle. In Louisiana, you have the burden of proof when it comes to claiming Diminished Value. Insurance companies are not obligated to pay you up front. You have to provide "proof" of loss in value. Our comprehensive report gets results!
What Is Inherent Diminished Value?
Even if your wrecked vehicle was repaired correctly, it still has sustained a loss in value as a direct result of the accident.
In Louisiana, Diminished Value is defined as the automatic loss in the vehicle market value from an accident and subsequent repair. It is based on the public awareness that even if a vehicle is repaired to the best of human ability, it will still exhibit remaining deficiencies and inconsistencies from the pre-loss condition of the vehicle.
These deficiencies include, but are not limited to:
1.Weaker structural components that appear cosmetically sound
2.Impossible to duplicate factory seams, sealers, and finishes
3.Telltale signs of repair, such as paint missing off the heads of bolts
4.The unavailability of some factory decals, and markings
5.Undiscovered Kinetic damage throughout the vehicle
6.The increased likelihood of a mechanical failure
7.The effect that the repair will have on the future deployment of the SRS systems
8.The impossibility of duplicating immersion rust-proofing techniques, etc.
Diminished Value Put Simply
Diminished value is based on the common knowledge that after a wrecked car has been repaired, it is now worth less than a comparable vehicle that has not been damaged. The difference in value after the accident compared to the value immediately before the accident is known as diminished value. In Louisiana, the courts acknowledge this liability and allow you to make a claim for damages against the other person's insurance company. That's right, YOU could be entitled to money for an accident that wasn't your fault.
We work closely with attorneys and body shops by providing reports that support the loss in value on a wrecked vehicle and allow you to claim diminished value. This relationship benefits all parties because it supports indemnification of the policyholder/3rd party in the claim.
If you already have an attorney and/or a body shop, tell them about us. Be sure to contact us today!