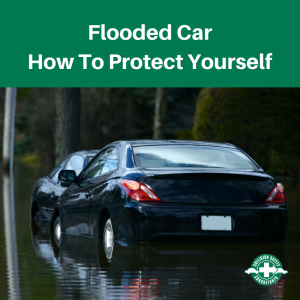 Flooded Car Questions
When it comes to a flooded car many people wonder about items like: Will a flooded car engine start?   What is the cost of repair on a flooded car? How does a car insurance company deal with a flooded car? How do I protect myself when dealing with a flooded car?
You may ask: Protect myself from what?
Short Answer: (1) Flooded car mistakes and (2) Insurance company bully tactics.
The fact is that thousands of flooded cars will soon be flooding the market in states in and surrounding those impacted by floods in 2017. There were several flood events in the south this year, Hurricane Harvey being the most catastrophic. Those flooded vehicles were deemed "totaled" by insurance companies but will still enter the market for purchase. Let's address what your rights are if you lost your vehicle to the flood. Additionally, if you are in the market to buy a used vehicle, what signs should you look for to determine if it was flooded?
Flooded Car Insurance Claims
Reeling from the aftermath of a natural disaster is overwhelming. Our hearts go out to those severely impacted by the recent floods. The loss and stress of it all can be devastating. Worry over the details of filing property damage claims and vehicle damage claims can become overwhelming. If your vehicle suffered flood damage recently, you probably will soon, or already have filed a claim with your insurer. Depending on the level at which the water impacted you, it will be either repaired or totaled (insurance term – total loss). There are a few things you can do now to protect yourself.
How much water can a vehicle handle before damage becomes severe?
Determining how high the water reached may not be feasible if you had to flee for your family's safety. Whenever possible – take pictures! These become invaluable when discussing the extent of damage to your vehicle with your insurer. The bad news: water rising above floor level is usually sufficient for a vehicle to be deemed totaled.
Engine compartment or interior damage impacts a multitude of key parts that inhibit safe operation of the vehicle. When water impacts a vehicle to this level, failure is imminent on these and many other parts: engine, transmission, drive train, fuel, brakes, power steering systems, internal computers, seat mechanics, etc.
There is no amount of cleaning or drying out that can put a vehicle back to like new condition after flooding. Even qualified mechanics seldom recommend repairing flooded vehicles because of the extensive damage that, most times, cannot be remedied. Even a vehicle that has been thoroughly cleaned and dried will eventually show problems from corrosion, oxidation, mildew, etc.
If you are in the market to purchase a used car, ask if the dealership will allow you to have a vehicle inspected before purchase. This is worth the time and money when making an investment of this magnitude. You may not have been a flood victim, but if you unwittingly buy a flooded car, you can still become a victim.
Collision Safety Consultants of Southeastern Louisiana offers inspection services to protect you from a bad purchase. We work for you, not the dealership.  Call us!  +1 (504) 452-4428
Am I at the mercy of my insurer when an offer is made on my totaled vehicle?
When your insurer determines that your vehicle's repair will exceed the state requirement for totaling, they will discuss the process with you. A determination of your vehicle's actual cash value will be made and they will offer you a sum of money for your vehicle.
Do you HAVE to accept it? NO.
More times than not, an insurer will attempt to offer you a sum much lower than your vehicle's actual worth. This is a tactic on their part to save dollars paid out on claims (especially with large storms such as Harvey). However, as the policyholder, you have the right to dispute the valuation made by the insurer.
This language is written into most auto policies as a protection to the consumer – you. The burden of proof is now on you to show them what your vehicle is truly worth – its actual cash value. How do you prove the actual cash value of your vehicle? You should hire a qualified, reputable appraiser to assess the cash value of your vehicle before the loss.
Collision Safety Consultants of Southeastern Louisiana appraisers are independent and do not work for the insurance company. We will be working for you and have your interests in mind.  Call us! +1 (504) 452-4428
For more information please free to fill out the form on our contact page.
Related Article: Collision Safety Consultants – A Customer Centric Company